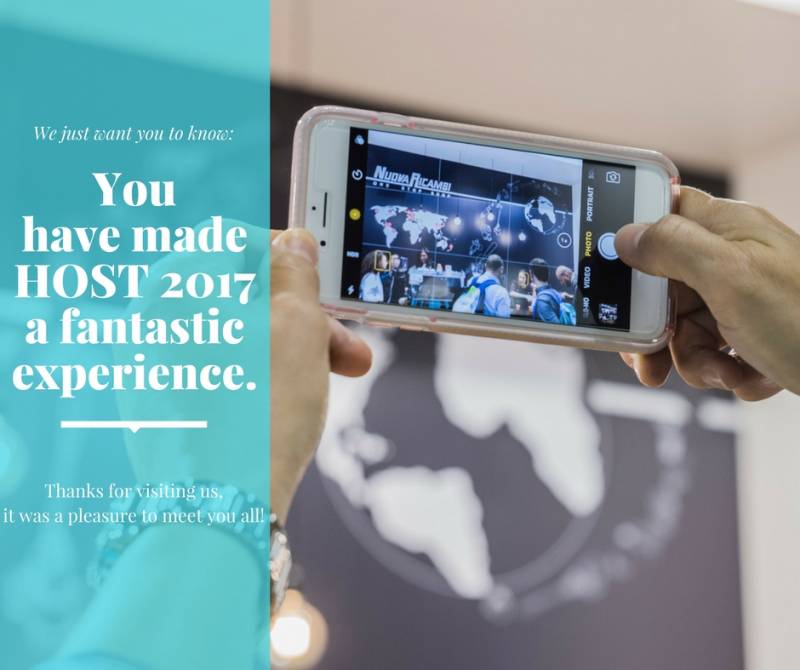 ---
Milan: The 40th HostMilano edition closes its doors after sharing five days of unique emotions.
According to official data from Fieramilano, 187.602 professional visitors (+24,3% than previous 2015 edition), Host confirms its success as international exhibition, and it registered a plus 20,4% of foreign attendees than last edition.
This Event represents for Nuova Ricambi an unmissable chance to meet the best companies from coffee world, to meet new people and share ideas and opinions with customers. As an exclusive meeting place Host is the number one appointment to launch new products and discover new tendencies.
We presented there our new catalog, which added 8000 new codes since last Host 2015. We added new brand spare parts, such as Casadio, Dalla Corte Expobar, Fiamma RST, Compak, Quamar, Nuova Simonelli, Eureka, Macap, Mazzer and we increased Washing and Barista Accessories sections.
We're still enriching our catalog to provide you with innovative solutions that allow you to increase your performances and because our passion is to spread the coffee culture.
During Host we wanted to involve you at 100%, that's why we opened Nuova Ricambi doors to everyone and offered a tour in our Company.
It's really been a pleasure telling you our history, showing you where and how we work and launching our second-hand machines exhibition that Mr. Zanesi, Nuova Ricambi Ceo, has been collecting during time and jealously looking after.
We're very proud of huge positive feedbacks we received and therefore we decided to still give you the chance to meet us and visit our machines show.
We would like to thank all Nuova Ricambi Official Distributors who reached us to take part together at Host.
We also thank you all, who came to visit us and made alive this event.